New Ceramics 6/2016 - Content
NEWS
PROFILES
Bai Ming, CN
Gritta Götze, D
Mathew McConnell, USA
Thomas Benirschke, D
Josef Wieder, AT
Nirdosh Petra van Heesbeen, NL
Kirsten Holm, DK
Paloma Torres, MX
FORUM
Faster, Further, Higher
The Death of a Dinosaur
NCECA from a student's view
EXHIBITIONS / EVENTS
Beate Thiesmeyer, D
1st International Latvian Ceramics Biennale, LV
The Seiler Pottery, D
"Mud – Hands – Fire", CA
"Celadon", NK
NASPA Talent Award, D
CERAMICA MULTIPLEX,  CR
CERAMICS & TRAVEL
Africa – Africa – Togo
KNOWLEDGE & SKILLS
Tatara Workshop – Petra Lindenbauer
ARTIST JOURNAL
Zeter Peled IL – Zung-Lung Thai, TW- Shao Ting-Ju
IN STUDIO
Agnes Husz interviewed by Evelyne Schoenmann
DATES / Exhibitions / Galleries / Museums
COURSES / SEMINARS / MARKETS
ADVERTISEMENTS
PREVIEW
New Ceramics 6/2016
Click on the symbols for further details.
PROFILES

PROFILES
Gritta Götze – D, Mathew McConnell – USA, Thomas Benirschke – D, Josef Wieser – AT, Nirdosh Petra van Heesbeen – NL

EXHIBITIONS

Beate Thiesmeyer  –  Heidelberg Germany
1st International Latvian Ceramics Biennale  –  Daugavpils Latvia
The Seiler Pottery  –  Leutershausen Germany
"Mud – Hands – Fire"- Winnipeg Canada
"Celadon" – Deventer Netherlands
NASPA Talent Award – Höhr-Grenzhausen Germany
CERAMICA MULTIPLEX – Varaždin Kroatien

ARTIST JOURNAL

Ting-Ju Shao presents Zemer Peled from the Israel and Zung-Lung Tsai from Taiwan.

DATES

Dates and Exhibitions from Amsterdam to Winzer
Extracts
Profile Gritta Götze – D, Profile Mathew McConnell – USA, Profile Thomas Benirschke – D, Profile Josef Wieser – AT, Profile Nirdosh Petra van Heesbeen – NL, Forum: Faster, Further, Higher, Exhibitions: Beate Thiesmeyer, D, "Celadon", NL, NASPA Talent Award, D, Artist Journal: Zemer Peled – IL – Zung-Lung Tsai – TW, In studio: Agnes Husz
Grita Götze (D)
After a potter's apprenticeship in Bürgel, Grita Götze studied ceramics at the University of Industrial Design in Burg Giebichenstein, Halle, under Gertraut Möhwald and Heidi Manthey. Whereas the former grande dame of the Art University was able to "investigate her students' skills and strengths and to plot their course individually", Götze says of the latter that her "strict design principles still go through my head when I paint my pots today".
The discussion of ornamentation and its formal characteristics are indispensable for Grita Götze's work. She finds inspiration in Far Eastern woodcuts, in the fanciful extravagance of Jugendstil as well as its severe principles of form, and generally in the infinite diversity of patterned textiles.
(Dörte Brekenfeld)
Mathew McConnell (USA)
For centuries, the notion of copying within the visual arts has variously been associated with counterfeits, education and mass-production. Within the arts, the range of words employed to describe the copy serve up an abundance of associations. For example: to ape, copy, counterfeit, duplicate, echo, facsimile, fake, falsify, forge, emulate, imitate, impersonate, mimic, replicate, rival, simulate, in the positive sense can each be considered as flattery. Just as often the copy is likely to be thought of as cheap or duplicitous.
The copy is a tool for art education. I recollect that a very helpful and telling first project, immediately upon entering a bachelors degree pathway in contemporary painting, was the task of copying a work of art. A quick survey of the range of works chosen by the students in my year for this project would have quickly unveiled our range of technical abilities. Upon completion of the task, what was actually more interesting than our respective technical abilities was the wide variety of objects we presented as a group.
(Matt Blomeley)
Josef Wieser (AT)
Having grown up in an agricultural environment, I have always been closely involved with the materials around me. The region between the Limestone Alps and the Granite Massif has created a wide range of sedimentary formations under the influence of 80 million years of weathering. Completely untutored, I dug some holes here and there and built my first toploading kiln when I was twelve, and that was how my enthusiasm for clay and fire caught fire.
My close relationship to nature is reflected in my work now more than ever. I often roam the countryside looking for evidence of special geological phenomena. Deeply cut valleys and the course of streams often open a window on lower-lying strata.
Nirdosh Petra van Heesbeen (NL)
Nirdosh Petra van HeesbeenA very, very long time ago in Amsterdam, when I knew nothing of clay, or ceramics, I used to stop in front of a shop window that showed ceramics. It was called the Grès Compagnons. I did not know what grès was; but liked to stop and look at the works. There were four names; one of them was a woman.
Recently, after forty years, I went to interview the woman ceramist of the group.
Nirdosh Petra Van Heesbeen lives in Uffelte in Drente, a woody, pleasant countryside in the east of Holland, and in France near La Borne, in Neuilly en Sancerre.
(Nesrin During)
Nirdosh Petra van Heesbeen
Faster, Further, Higher
Social and cultural change in the history of humankind can be deduced from ceramics. It is an example of the potency of Olympic virtues in evolution. Faster, further and higher is a law of nature in human development that nobody invented and which is fulfilled.
The motto of the Olympic Games does not go back to the Ancient Greeks as one might expect but to the Latin scholar and Dominican priest Henri Didon in the late 19th century, and it is not even always quoted and translated in the same way. Soemtimes the Latin word "fortius" is rendered as "stronger", sometimes as "further". This motto cites virtues that not only apply to the athlete's desire to win but can also be valid in a historical dimension. Society, economy and culture change faster today than ever before. (Gustav Weiß)
Encounters
Beate Thiesmeyer
While researching a commission for a church near my home town, I came across the lovely Rhineland madonnas from the 16th century.
Their restrained delicacy inspired me to make realistic human figures
To give these figures a greater presence, I began to make larger formats and to relate the figures to each other in space. The "Family Constellations", in which women, children and increasingly animals too play a major part, are what emerged.
The surfaces, delicately coloured with engobe, channel the look of Renaissance madonnas, and in their posture they reflect the other-worldliness of these statues.
Beate Thiesmeyer – Begegnungen ("Encounters") New figurative work
4 December 2016 – 15 January 2017
Galerie Marianne Heller
Friedr.-Ebert-Anlage 2
Im Stadtgarten, D-69117 Heidelberg, Germany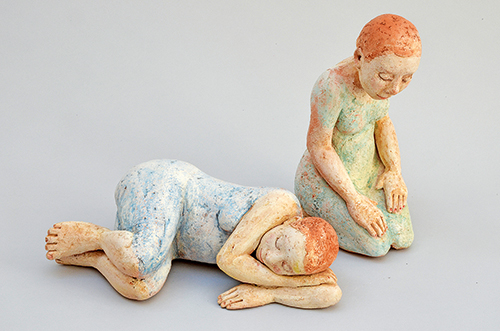 Celadon
A contemporary approach to the mysterious celadon glaze in an exhibition with both European and Asian potters
As young gallerists with a passion for ceramics we went in 1989 to Mons in Belgium to visit an exhibition of Japanese ceramics from the Showa period (the reign of emperor Hiro Hito 1926-1989). At that exhibition we both became deeply impressed by an upright ceramic object in the form of and obviously as sharp as a sword. It was covered with an impressive, mysterious blue-green glaze. This was our first encounter with celadon. The object was created by Suehara Fukami. We both knew this was the sort of ceramics we wanted to show in our gallery and we attempted to make contact with this Suehara Fukami. But alas our letter was returned; undeliverable (and no internet yet in that time).
(Reinier van de Voorde)
Fokus Gefäß - Focus: Vessel
8th Nassauische Sparkasse Talent Award2016
… a feast of craftsmanship, for both the eye and the intellect
Large glazed vessels, expansive installations, the finest, wafer-thin porcelain and brightly coloured printing techniques delight viewers, as do light installations playing with sophisticated technology: at the Keramikmuseum Westerwald (KMW), 174 outstanding vessels in classic or contemporary mode are on show. Their quality invites us to enjoy the individual aesthetic and intellectuality of the vastly differing artists who made them.
The two large lavishly decorated Baroque vases by Latvian artist Inguna Skuja (*1965) and Melissa Braden (USA, *1968) are at the centre of the discussion: "Flocked Vase" and "Harvest Vase" play with the contrast between kitsch and established ceramic art.
(Monika Gass)
Artist Journal: Zemer Peled and Zung-Lung Tsai
Zemer Pellet : Zemer Peled was born in a kibbutz, in Israel in 1983.
Peled assembles hundreds, and even thousands, of porcelain shards to explore the beauty and brutality of the natural world, and suggests the related memories or identity issues through the nature or landscapes she constructs. Viewers may feel the exquisite beauty and macroscopic splendour of ceramics from them.
Zung-Lung Tsai: Zung-Lung Tsai was born in Taiwan in 1974. A solid training in the academy of sculpture is combined with a self-taught, mature technique of firing. To Tsai, wood firing is not purely a technique. The different texture and colour of every work of his exemplifies the attributes of different shapes in wood firing. His goal is to explore the organic plastic material, the firing process and the texture of the earth. Tsai has introduced the traditional skill of wood firing into the figuration and language of contemporary ceramics.
(Ting-Ju SHAO)
In Studio with Agnes Husz
When Agnes works on her narrow strips of clay, it looks as if she were using ribbons for weaving with because of the playful way she makes them fly through the air. Here, she shows us how she joins up these elongated strips to make a water sculpture.
(Evelyne Schoenmann)
Purchase a single issue here
Each issue is 10€ in Germany incl. 7% VAT, 11€ (EU), US$ 12€,  GBP 7.5 in UK, 15sFr in Switzerland. There are no additional handling or shipping costs.
[contact-form-7 404 "Nicht gefunden"]