New Ceramics 5/2018 - Content
NEWS
PROFILES
Yoshitomo Nara – Japan
Tineke van Gils – Netherlands
Gaby Pühmeyer – Germany
Michael Morgan – USA
Jeroen Bechtold – Netherlands
Belinda Berger – Germany
FORUM  / EDUCATION / HISTORY
Ceramics in the World of Things – Gustav Weiß – Art philosophy
PICASSO – in two and three dimensions – Astrid Sänger – Education
Indian and Hittite Miniature Bowls – Henning Marquardt – History
EXHIBITIONS / EVENTS
IN WOMEN'S HANDS – Ceramics from West Africa – Düsseldorf – Germany
EUNIQUE – Karlsruhe – Germany
2nd International Ceramics Biennale  –  Daugavpils – Latvia
Eternal Regrets or Eternally Beautiful? – Vienna – Austria
Graduates 2018 – Höhr-Grenzhausen – Germany
HOZANA GOMES DA COSTA  – Staufen – Brazil / Germany
Gold Bricks – Lumu – China
Galerie del Campo – Wijster – Netherlands
CLAY GULGONG – Gulgong – Australia
20th Iznang Pottery Market – Iznang – Germany
ARTIST JOURNAL
Shida Kuo + Kazuki Takemura  – Ting-Ju Shao – Taiwan / USA / Japan
IN STUDIO
Adil Writer – Evelyne Schoenmann – Interview / Developing skills
DATES / Exhibitions / Galleries / Museums
COURSES / SEMINARS / MARKETS
ADVERTISEMENTS
PREVIEW
New Ceramics 5/2018
Click on the symbols for further details.
PROFILES

Yoshitomo Nara – J, Tineke van Gils – NL, Gaby Pühmeyer – D, Michael Morgan – USA, Jeroen Bechtold – NL, Belinda Berger – D

Wounded  2014  120.0 x 110.0cm , Acrylic and collage on canvas Photo: Yoshitomo Nara© Yoshitomo Nara

FORUM

Ceramics in the World of Things – Gustav Weiß – Art philosophy
PICASSO – in two and three dimensions – Astrid Sänge – Education
Indian and Hittite Miniature Bowls – Henning Marquardt – History

EXHIBITIONS

IN WOMEN'S HANDS – Ceramics from West Africa – Düsseldorf – Germany, EUNIQUE – Karlsruhe – Germany, 2nd International Ceramics Biennale  –  Daugavpils – Latvia, Eternal Regrets or Eternally Beautiful? – Vienna – Austria, Graduates 2018 – Höhr-Grenzhausen -Germany, HOZANA GOMES DA COSTA – Staufen – Brazil / Germany, Gold Bricks – Lumu – China, Galerie del Campo – Wijster – Netherlands, CLAY GULGONG – Gulgong – Australia, 20th Iznang Pottery Market – Iznang – Germany

DATES

Dates and Exhibitions from Amsterdam to Winzer
Extracts
Profile: Yoshitomo Nara – J, Tineke van Gils – NL, Gaby Pühmeyer – D, Jeroen Bechtold – NL. Forum: Ceramics in the World of Things – Gustav Weiß – Art philosophy Exhibitions: EUNIQUE – Karlsruhe – D, Graduates 2018 – Höhr-Grenzhausen – D, CLAY GULGONG – Gulgong – AUS Artist Journal: Shida Kuo – Taiwan / USA and Kazuki Takemura – J In Studio: Adil Writer – Evelyne Schoenmann
Yoshitomo Nara (J)
The bigheaded children he depicted are highly recognizable and famous in the international context, even among people of different generations. These little girls' wide eyes reveal shrewdness, anger, or inscrutable rebelliousness. After Japan's 3.11 earthquake, however, the facial expressions of Nara's figures became gentler. Since his solo show in Tokyo in 1995, Yoshitomo Nara has received numerous attentions and feedback. The art critic Matsui Midori has once stated that he would consider Nara as one of the important artist who has revived figurative painting via the techniques of contemporary art.
(Yoshitomo Nara interviewed by Ting Ju Shao)
Miss Strawberry, 2018  ceramic  44.9 cm x 44.9 cm x 43 cm
(Photograph by Keizo Kioku, Courtesy of Pace Gallery, Blum and Poe, and the artist.) 
Tineke van Gils (NL)
When your hands know exactly what to do … when porcelain immediately seems to sense that it must become a vase … than the wheel is a stage for the dance between you and the clay. What remains is the moment, the wonder, the joy.

Freedom
It is a pure delight to watch Tineke van Gils when she is working on the potter's wheel. Whether it is on a big stage during ceramics seminars she organises in the Netherlands, or in the intimacy of her spacious and bright studio, she throws pots with a natural ease and a radiating calmness. The results look equally natural: porcelain which stayed true to its origins, solidified in its dance on the wheel, creamy white bowls, teapots and vases, each movement still visible, each touch cherished forever.
(Yna van der Meulen)
Gaby Pühmeyer (D)
With self-confident body language, a quiet smile on her lips and a fish under her arm: that is how she stands there, the "Seelenfischerin" ("Soul Fisher"), 2014. The clear, direct look in her eyes beams in the colour of her sporty outfit – turquoise blue. Besides blue and white, this is the most frequent colour in the work of Gaby Pühmeyer. For her, blue in all its shades is the colour of the sky, of infinity and expanse. Pühmeyer once phrased it thus: "As long as there have been humans, they have experienced their world as overarched by the blue of the sky, the impressive effect of the Earth's atmosphere on our eyes, breaking up and illuminating the black of the cosmos and at the same time screening the Sun's rays to the extent that the ultraviolet light cannot harm us. As long as humans exist, they perceive themselves on the Earth as enveloped in blue … The encounter with the blue of the sky in its unavailability and its all-embracing and overarching infinity becomes and encounter with the transcendent."
In her 2014 sculpture, "Seelenfischerin", a number of aspects become apparent that are distinguishing features of this ceramist's work. The figures – mainly female – are slab-built from coarsely grogged clay. For Pühmeyer, clay is the most suitable material as it can be three-dimensionally shaped in various different ways.
(Roswitha Bader)
Jeroen Bechtold (NL)
For some years after his studies, Jeroen Bechtold stuck to functionality, a logical result of his work for industry – among others for Rosenthal in Germany where he was the first designer of Dutch origin. After 1985, however, part of his work evolved in a way where functionality was discarded and pieces with grand themes appeared: civilisations of bygone eras, natural disasters, environmental pollution. In 1986, Bechtold created his first Reconstructions of the Remains of the Holy Grail, what would become a series engaging him for over ten years and would ultimately result in a total of 106 pieces, followed by another series of 55 pieces in 2008. The rickety stands on which the bowls rest look like they could collapse at any moment. "The Grail series gave me a chance – for the first time – to communicate my quest for the myth of existence through images," explains Bechtold. "The chalice represents 'goodness', albeit that this goodness is vulnerable …" 
(Yna van der Meulen)
Ceramics in the World of things
Forty thousand years ago, humans began to paint on cave walls with the colours that nature provided and to make figures of goddesses from clay. The high point of these creations was the Mother Goddess in Çatalhöyük from 6200 B.C.E. The figure represents the life-giving and destructive goddess between two leopards and was a symbol of supernatural authority that is preserved by natural forces. – The sense and meaning of a work of art, after which there has been nothing else of its kind. Çatalhöyük was the largest settlement in the world at that time.
(Gustav Weiß)
Mother Goddess of Çatalhöyük  6200 B.C.E. (head reconstructed)
EUNIQUE KARLSRUHE - final 2018
As a fair for applied art and design, in 2018 with approx. 350 selected exhibitors from 17 European countries and everything imaginable from the fields of glass, textiles, ceramics and metal plus a special area for newcomers, EUNIQUE in Karlsruhe had become firmly established. The professional circles of fashion, architecture, interior design, and many galleries have accepted EUNIQUE as a major exhibition event and a pool of inspiration. Creatives as well as also galleries used the opportunity to present themselves by exhibiting regularly and repeatedly, marketing themselves directly, showing goods made to order or in series and innovative items as well as testing unique, one-off goods. It is good that parallel with EUNIQUE and accessible with the same admission ticket, LOFT, the DESIGN SHOPPING CENTRE, takes place at Karlsruhe Trade Fair Centre, presenting vast numbers of bright young startups in fashion and design, environment-friendly inventions, hip recycled and alternative products.
It is interesting to note that the Karlsruhe Majolikamanufaktur appears in 2018 with an orientation towards digital printing with product designer Fabian Schmidt, who is engaged in building up this area and providing professional guidance at the factory.
(Monika Gass)
GRADUATES 2018 - Fachschule Keramik, Höhr-Grenzhausen
Nina Herrmann in the vessel design department studied variations of handbuilt unique vessels made from prepared strips, with the foot of each piece made on the wheel. They are slender and asymmetrical in shape, which gives a sense of elegance and grace. These objects, made of porcelain, are illuminated from the inside, which not only shows the making process and translucence of the material to advantage but also enhances their delicacy and elegance.
Assembling prefabricated, almost identical modules to make vessel forms is also the theme of Eileen Rosenkranz, vessel design department. Her piece, Pink is the New Black, is more organic in feel, the development of her families of forms is inspired by the image of an opening bud.
(Toni Lange)
10th International Symposium in Gulgong, Australia, April 2018
Iconic comes to mind, as does epic, if you want to describe Clay Gulgong 2018!
For the tenth time, from 15 – 22 April, the small gold prospecting town in NSW, Australia with its old time charm and its extensive clay deposits welcomed 700 participants from all over the world. Iconic ceramic artist Jane Mansfield, who died in 2013, established Clay Gulgong in 1989 with Woodfire. The Mansfield family with son, Neil Mansfield and his wife Bernadette are keeping her legacy alive and have once again presented an action-filled week with demonstrations, exhibitions and shop-window displays and plenty of opportunities to get to know each other again.
On the Red Hill, in a white marquee beneath a brilliant blue Australian sky, world famous ceramists revealed their secrets to the enthusiastic audience. Exciting, exquisite and exotic are words you can use to describe the artists and their demonstrations.
(Michaela Kloeckner)
A street scene in Gulgong
Artist Journal: Shida Kuo and Kazuki Takemura
Shida Kuo  (Taiwan/USA)
Shida Kuo was born in Taiwan in 1959, he has been adjunct professor in New York
University since 1993. Todd Heyden* wrote a poem about Kuo's work: "His art feels new and old at once; his innovative constructions recall ancient shapes the first humans dreamed – the essence of forms that have always been with us."
As Kuo states, "Drawing was the primary method of communication before the invention of languages. Wasn't drawing initially based on observations of nature? What was the process, then, in which nature was transformed into shapes and lines?
Kazuki Takemura  (Japan)
Kazuki Takemura was born in Gifu, Japan, in 1986. Takemura shapes the form inside the hemispherical plaster mould. In this semicircular mould, he follows his interaction with clay to develop a structure embellished with dancing and pene-trating light.
(Ting-Ju SHAO)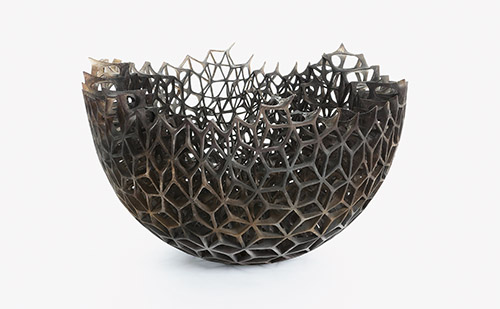 In studio with Adil Writer
Adil, what is your art background?
I have studied and worked as an architect in Bombay and San Francisco; now I am neck deep into ceramics. In 1998, I drove my Bombay Zen into the portals of the haloed Golden Bridge Pottery (GBP) in Pondicherry. What started out as a seven-month course, has turned into a lifelong addiction! I spent two and a half formative years at GBP under the tutelage of Ray Meeker and Deborah Smith.  Meeker, also an architect-turned-potter, was working on his last fired-house project in those days, and I was lucky to be a part of it. In fact, my international clay journey took off in 2008 when Janet Mansfield invited me to Clay Edge in Gulgong, where I built and fired a three-meter-high dome which still stands tall today at Morning View.
(Evelyne Schoenmann)
In Studio with Adil Writer
Purchase a single issue here
Each issue is 10€ in Germany incl. 7% VAT, 11€ (EU), US$ 12€, 15sFr in Switzerland. Postage is calculated individually for single copies. (3,70€)
[contact-form-7 404 "Nicht gefunden"]