New Ceramics 5/2016 - Content
NEWS
PROFILES
Maria ten Kortenaar,NL
Christa Koslitz, Ger
Fritz Radlwimmer, A
Kirsten Diez-Reinbeck, Ger
John Higgins, UK
Cormac Boydell, Irl
Brigitte Pénicaud, Fr
Jürgen Riecke, Ger
FORUM
Sense and Purpose
EXHIBITIONS / EVENTS
Treasures from the Andes, Düsseldorf Ger
Clay Gulgong 2016, Gulgong Au
East-West Ceramics Exhibition, Seoul    Kr
"cats vs dogs", Frechen    Ger
Clay Ceramics Museum Denmark, Middelfart Dk
25th International Ceramics Weeks, Hüfingen     Ger
Ceramic Treasures for the Enjoyment of Tea, Johannesberg Ger
CERAMICS & TRAVEL
Traditional Ceramics on the Canary Islands
KNOWLEDGE & SKILLS
Tatara Workshop – Petra Lindenbauer
ARTIST JOURNAL
Cheryl Ann Thomas, USA and Tomoko Konnoo, Jp –  Shao Ting-Ju
IN STUDIO
Antonella Cimatti interviewed by Evelyne Schoenmann
DATES / Exhibitions / Galleries / Museums
COURSES / SEMINARS / MARKETS
ADVERTISEMENTS
PREVIEW
New Ceramics 5/2016
Click on the symbols for further details.
PROFILES

PROFILES
Maria ten Kortenaar – NL, Christa Koslitz – Ger, Fritz Radlwimmer – A, Kirsten Diez-Reinbeck – Ger, John Higgins – UK, Cormac Boydell – Irl, Brigitte Pénicaud – Fr, Jürgen Riecke – Ger

EXHIBITIONS

Treasures from the Andes, Düsseldorf Ger
Clay Gulgong 2016, Gulgong Au
East-West Ceramics Exhibition, Seoul Kr
"cats vs dogs", Frechen    Ger
Clay Ceramics Museum Denmark, Middelfart Dk
25th International Ceramics Weeks, Hüfingen Ger
Ceramic Treasures for the Enjoyment of Tea, Johannesberg Ger

ARTIST JOURNAL

Ting-Ju Shao presents Cheryl Ann Thomas from the US and Tomoko Konno from Japan.

DATES

Dates and Exhibitions from Amsterdam to Winzer
Extracts
Profile Maria ten Kortenaar – NL, Profile Fritz Radlwimmer – Austria, Profile John Higgins – UK, Profile Cormac Boydell – Irl. In Forum:Sense and Purpose. Exhibitions: Treasures from the Andes in Düsseldorf (Ger), Clay Gulong 2016 – Gulong (Australia), cats vs. dogs Frechen (Ger), Artist Journal: Cheryl Ann Thomas / Tomoko Konno and interview with Antonella Cimatti
Profile Maria ten Kortenaar (NL)
Near the busy centre of Amsterdam, a sign hangs in typical Amsterdam street that does not go unnoticed to the attantive passerby. In delicate letters, it says: Maria ten Kortenaar Porselein. Steep steps lead down to her studio. It is a room that radiates the sense of a warm oasis of calm. The dusty smell betrays the fact that a ceramist works here. Showcases stand on both sides, filled with colourful, almost poetic pots. In the neighbouring cupboards, bowls of pigments and packets of clay are neatly stacked. This is the home port of the artist, Maria ten Kortenaar, who travels the world with her porcelain.
(Marjolein Blaauwbroek)
Profile Fritz Radlwimmer (A)
Anyone who has walked long distances in one piece knows what remarkable distances you can cover on foot. Just setting targets for sections of the route, and walking, just walking and walking. Some things that you need lie by the wayside, sometimes you take a detour, follow tiring diversions and lose sight of your goal. Looking back, you are surprised by the distance you have covered by steadily walking. The time span and the distance have entered into an edifying relationship. The walker and the pathway too have entered into a relationship. The path has been transformed into a stimulus that releases new energy. Fritz Radlwimmer has achieved and experienced something similar in his career as an artist.
(Gabriele Blachnik)
Profile John Higgins (UK)
I was excited to be present to see John Higgins demonstrating at Aberystwyth International Ceramics festival last July, and riveted by his breathless physical energy and psychological focus as he held the audience spellbound. The last few lines of this poem, drawn from that experience, have catalysed this article about how he works.
A child of the fifties, born and educated in "The Potteries", the historical heart of the ceramics industry in England, John always describes himself as a potter.
(Deborah de Beer)
Profile Cormac Boydell
2016 is the centenary of the Easter Rising, the founding rebellion that paved the way to the 1918 War of Independence, and also, by the way, marks my seventieth birthday. All these years I've lived in Ireland apart from four years in the Australian outback and six months in the Libyan desert. The intensity of this Irish experience has ceaselessly inspired me to explore my relationship to this country, to closely examine what might constitute Irishness, and to consider my work in terms which must nevertheless exist beyond the bounds of nationality.
(Cormac Boydell)
Forum: Sense and Purpose
In no other area of art or creativity are humans led beyond the pure activity to a deepening of their self conception other than in ceramics. Gradually, the sense of elation at a creative idea makes way for questions about sense and purpose.
(Gustav Weiß)
Clay treasures from the Andes
It is customary at the Hetjens-Museum in Düsseldorf for trainees at the end of their two-year traineeship to curate an exhibition of their choice, as a kind of "graduation piece". But for Miriam Schaum, the latest exhibition at the Hetjens Museum is the second in a single year. When she was sifting through the museum's holdings, which contain ceramics from over 8,000 years, she discovered that the it has an outstanding collection of pre-Columbian ceramics from South America. She has now compiled an exhibition, including loans from two private collections and the university of Bonn, which focuses for the first time since 1992 on "Clay Treasures from the Andes".
(Antje Soléau)
Clay treasures from the Andes
Clay Gulgon 2016
In 1870, gold was discovered on Red Hill in Gulgong NSW, and suddenly this Australian village became the centre of the universe with the population growing by 20,000. The famous Australian poet Henry Lawson (1867-1922) immortalised the history of this town in his works. This is also the reason that the Australian ten dollar note honours Gulgong with a representation of its historic buildings in the background. One hundred and thirty of these buildings are now protected by a preservation order.
When Clay Gulgong welcomed 500 ceramists and masters from all over the world on 17 April 2016, it was once again the centre of the universe, except this time it was not about gold, it was about clay.
(Michaela Klöckner)
Cats vs. Dogs
The Internet Cat Video Festival at the NRW Forum Düsseldorf in February received such a positive response that some visitors waited for hours in vain for admission. The organiser, Alain Bieber, sees such cat-fixated amateur internet content as an example of contemporary pop culture. He has studied how this "vulgar avant-garde" has inspired movements in art and politics, thus influencing society as a whole. But does cat content only affect contemporary art or does it also change our perspective with regard to artwork from the pre-digital age?
What effect does the growing enthusiasm for cats in art have and what is the relationship between how cats and their adversary, dogs, are seen?
(Olga Moldaver)
Artist Journal: Cheryl Ann Thomas and Tomoko Konno
Cheryl Ann Thomas: As translucent paper with visible fibres or an intricate burlap tapestry, Cheryl Ann Thomas's work ingeniously demonstrates the properties of clay in various forms by coiling, which reveals its texture and tactility through one or more overlapping layers and elegant and singular shapes. Concentrating on the process of firing, she lays stress on the evolution of thin and tall works in the heat, or the unpredictable outcome of overlapping and re-firing a number of fired works.
Tomoko Konno: Konno uses the technique of nerikomi, or lamination in the Western term, which basically involves laminating or joining together clays with two or more colours, and cutting, collaging, or encrusting them into a biscuit with diverse decorative patterns on the surface. Inspired by plants and flowers, her work overflows with the joy of life, from which viewers may smell the blossoms of early spring or feel the sublime beauty of summer, only to find a brand new world of imagination beyond these sensual impressions.
(Ting-Ju SHAO)
In Studio with Antonella Cimatti
Antonella's aura of refinement infuses her "crespine". Her works are so light
they seem to float. They are reminiscent of lace. She explains here how
she found a way to create this sense of lightness.
(Evelyne Schoenmann)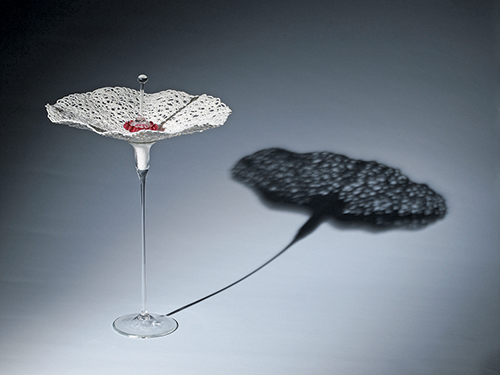 Our types of subscriptions
Gift subscription, trial subscription, regular subscription, online edition. With these subscriptions, you can regularly bring the whole world of art ceramics into your home.
Purchase a single issue here
Each issue is 10€ in Germany incl. 7% VAT, 11€ (EU), US$ 12€,  GBP 7.5 in UK, 15sFr in Switzerland. There are no additional handling or shipping costs.
[contact-form-7 404 "Nicht gefunden"]